An Artist's Journey
Jerry Schurr, well-known artist, naturalist, and long-time friend of the Butterfly WebSite, went on a pilgrimage to Mexico and California to study the lifecycle of the Monarch Butterfly. This journey came at a defining moment for the future direction of his artistic works.
March 4, 1997 - Before the Trip
The idea of this trip is to fulfill my need to see the whole Northern Hemisphere lifecycle of the Monarch butterfly culminating in the first sightings of returning Monarchs to my home in the Northeastern United States. I also plan a side trip to Natural Bridges, California just to experience the Western-most group of these amazing migrating insects.
But most of all I plan to use this experience as a launch-pad for a new body of artwork, which I now realize I've been heading towards during the last ten years of my life. Back in 1986 small clusters of butterflies started to appear in my landscapes, with a large acrylic painting named "Grizzley Creek". The image, a meandering mountain stream straddled by a grove of giant California Redwoods is punctuated by a cluster of tiny cabbage butterflies dancing in the foreground forest light.
Since completing that piece butterflies have gained more and more prominence in my imagery, until now I'm ready to give them full reign over my landscapes. I know that the next couple of years will reveal a tremendous spiritual release in my work, expressed through the powerful life force butterflies have come to represent in me. This pilgrimage is destined to be the wellspring of my future work.
March 14, 1997 - Michoacan, Mexico
An absolutely overwhelming experience. I'm standing in a small clearing along a trail of the El Rosario Monarch Butterfly Preserve in southeastern Michoacan, Mexico. The air at 10,000 feet is cool, clear, and alive with millions of swirling monarchs. It is their time to leave this peaceful, sheltering oyamel (fir tree) forest, to start their cycle of life which brings their great grandchildren to the southern reaches of Canada, more than two thousand miles to the north. But please let me backtrack.

A small leather-skinned man wearing a cowboy hat is directing us into a parking slot at the dusty El Rosario Monarch Butterfly Sanctuary parking lot. The air is alive with monarch butterflies. They are everywhere. Walking is a challenge to my sensibilities. Wings and bodies are ground into the gray dusty trail, and up ahead, the oyamel forest spills forth its bounty of butterflies. They pour out of the access trails like Autumn leaves. Their sound ... millions of wings, like a dry rain.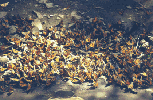 I enter the gentle "rain" and my eyes overflow with color. The forest floor is littered with fir needles and butterfly wings. Fences are festooned with monarchs; great hanging clusters of butterflies weigh down the branches, and immense golden sunflower trees are frosted with monarchs.

Ten thousand feet are very unforgiving for a lowlander like me, and I need to stop every few feet to catch my breath. There is no need to hurry in this exquisite sanctuary of life, light, and quiet music. The breeze stirs the forest, a branch heavy with monarchs snaps and falls twenty feet from where I stand. Monarchs are piled ten, maybe twenty deep. The pile stirs and within minutes a naked branch sits on the trail (its living cargo taken to the air).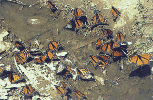 I reach the uppermost loop of the trail and descend through overhanging bowers of sunflowers heavy with monarchs. They flutter and leave at my approach only to be replaced in seconds by another wave of orange and black beauties. Ahead to the left, a small spring bubbles from the mountainside and follows the trail. Thousands of butterflies are puddling (drinking), filling the stream from bank to bank. The dry rain is joined by the burbling spring. My head is swimming.