Rick Mikula - The Butterfly Guy
As an Amazon Associate and participant in other affiliate programs, The Butterfly Website may earn from qualifying purchases from this page.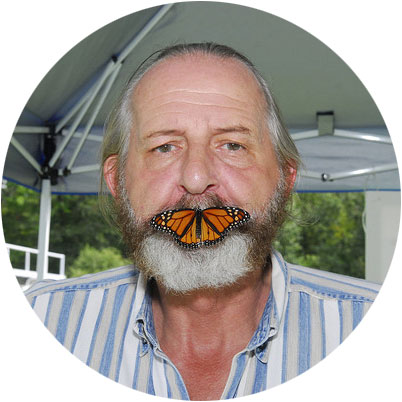 Rick Mikula has been delighting audiences of all ages with his humorous and off-beat way of looking at butterflies. An award-winning author with several books to his credit, he is also a photographer and habitat consultant, and has created butterfly atriums and gardens for Dolly Parton, Hershey Gardens, among others. Rick Mikula has been breeding and sharing his love of butterflies for with audiences for the past 35 years. He has been delighting audiences of all ages with his humorous and off-beat way of looking at butterflies.
He is currently President of Butterfly Rescue International and serves as consultant to both the Association for Butterflies and The International Butterfly Breeders Association. Rick is a co-founder and past president of the IBBA, has served as a vice president of the Canadian Butterfly Breeders and Exhibitors Association, secretary and treasurer for the New Jersey Lepidopterist Society, and on the BOD for The Center for Landscape Design and Stewardship. He is also the pioneer and inventor of the releasing butterflies at weddings and funerals and has helped to make it a global phenomenon.
Rick has written several books on butterflies including the award winning "The Family Butterfly Book. "The Butterfly Fandex" and "Garden Butterflies of North America" and served as staff writer for several magazines. He has been featured man magazines including, People, Organic Gardening, and Entrepreneur.
He has appeared on many TV shows including Animal Planet, The Discovery Channel, and has served as consultant for others such as CSI - Las Vegas. Rick has also designed several live commercial butterfly exhibits including the Hershey Butterfly Atrium, Clyde Peeling's Reptileland, and DollyWood. He has also helped numerous organizations install butterfly gardens at their locations and has been consultant to various endangered butterfly re-establishment projects such as The National Wild Turkey Federation and in the Dominican Republic and Costa Rica. He also conducts butterfly and botanical photography tours through Central and North America.
He has presented to every type of group imaginable from children with severe developmental disadvantages to the Smithsonian Institution, and from Mainline garden clubs to the New Jersey Correctional systems and everyone in between. From Pre-K to college Rick has a program for you.
Click here to read about Rick's visit to the Mahoney Area Elementary School where he and the students tagged monarch butterflies.
Find out more by going to Rick's website.