The Butterfly WebSite has been around since 1995, making it the oldest butterfly-related site on the web! Over our many years, our traffic has increased an average of 30% each year. From mid-2004 to mid-2006, many months registered over 600,000 unique visitors - averaging over 20,000 unique visitors daily. We are also listed in most search engines as the #1 position for the search term butterfly!
The Butterfly WebSite Features:
The web's oldest, largest, and best-known butterfly site.
An average of 20,000 visitors per day, every day.
Listed in almost every collection of 'web resources' on other nature sites.
Listed in numerous printed guides to the Internet.
Extensive recognition as a "child-safe" site.
Numerous repeat visitors, attracted by new information, contests, discussion area, chat rooms, etc.
An email list of over 60,000 registered visitors who receive our email newsletter.
Our "best nature website" awards have been enthusiastically received, resulting in prominent links from many fine nature sites.
The Butterfly Stockyard, the world's only clearinghouse for live butterfly requests.
The only mail list server on the web dedicated exclusively to butterfly farmers.
A link to our sponsor page is also included on our other nature-related websites such as:

The Ornithology WebSite
The Frog & Toad WebSite
The Dragonfly WebSite
The Hummingbird WebSite
The Wildlife Gardening WebSite
Because The Butterfly WebSite is a free resource, we rely on sponsorships to fund the development of this website. We are able to provide our sponsors with qualified leads through our sponsorship program from people who are here because they have a nature-related interest.

Sponsor Table
All sponsors are listed by category in our Sponsor Table which appears on the homepage of our website, in addition to our Sponsors page, linked in our left menu. The order of ads appearing in a category is determined via a randomizing function. Visitors also have the option of ordering the list by State and Country.
Sponsor Banners
Sponsors will have a banner no larger than 468x75 pixels appear at the top of 59 of our busiest pages. Several banners will also appear at the bottom of our home page. Each time the page is loaded, a new ad appears, chosen sequentially from our sponsor database. The prime position of the top of the page gets instant attention from visitors. If you cannot supply a banner, we can create one for you for a fee of $25.00.
You will have access to a web page where you can see how many visitors have clicked on your ad and gone from our website to yours. Click HERE and type in the password "example" to see how this works. You will of course receive your own password.

The cost for sponsorship is $350.00/year.

For butterfly breeders, sponsorship includes commission-free access to our database of people seeking live butterflies.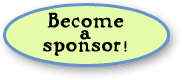 This invitation is extended to product suppliers, retail outlets, associations, and others involved in butterfly- or nature-related products. We reserve the right to review all potential sponsors for suitability for inclusion in these family-oriented websites. We also reserve the right to change sponsorship rates at any time.