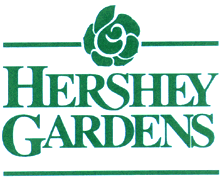 P.O. Box 416
170 Hotel Road
Hershey, PA 17033
Phone 717-534-3493
Fax 717-533-8289
---

Our goals for the Hershey Gardens Butterfly House are:

To introduce the public to as many as 25 species of butterflies, many of which are found in this region.


To educate the public about and explore the relationships between plants and butterflies through interpretive pamplets and signs.


To encourage people to plant gardens that supports the butterfly population in their neighborhood.
| | |
| --- | --- |
| | The Hershey Gardens is a non-profit cultural and educational organization administered by The M.S. Hershey Foundation and is located directly across from Hotel Hershey on Hotel Road. |
| | The Butterfly WebSite is eagerly following the development of Hershey Gardens Butterfly House and will be reporting its progress. |
---
Stage 1: "Stage Is Set For New Butterfly House"
Frame construction has been completed for the new Butterfly House in Hershey Gardens. This addition to the Gardens lends a dramatic and permanent architectural element to the landscape and preserves an historic piece of Hershey as well. Each of the 30' wide steel arches originate from a wing of the greenhouse structure built for Milton Hershey in 1930 by King Construction of New York. Much of the greenhouse was sold after it was dismantled in 1961. These four arches are a gift to the Gardens from a Pennsylvania native who had purchased them in the sixties. This historic framework will support the dense mesh that will enclose the butterflies in the House and supply the necessary shade for the developmental stages of the eggs, caterpillars, and chrysalis.
Set to open by mid-June, this outdoor Butterfly House is one of only 15 outdoor butterfly enclosures in North America. Hershey Gardens is working with an internationally renowned butterfly expert, Rick Mikula of Hole-In-Hand Butterfly Farms, to plan, implement, and stock the Butterfly House for its fullest potential. Plans are being made for Butterfly-related classes and events throughout the summer, beginning with a free lecture on butterflies with Rick Mikula on March 8, at 2:00pm in the Hershey Museum Lecture Gallery.
Admission to the Butterfly House is included in the regular Gardens Admission: $5.00 adults, $2.50 youths (ages 3-15), children under 3 are free. For more information, call 717-534-3492.
Hershey Resorts can assist you in planning a group trip and tour of Hershey Gardens and the Butterfly House. Call Julie Miller at 717-534-8625 for assistance.
Keep your calendars open for more updates on Butterfly House developments and events!
---

Butterfly WebSite Home Page
---
Last Updated: February 13, 1998: butterfly@mgfx.com
© copyright 1995-1998 Mikula Web Solutions; all rights reserved.