As an Amazon Associate and participant in other affiliate programs, The Butterfly Website may earn from qualifying purchases from this page.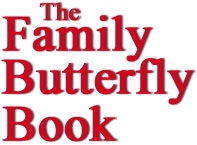 by Rick Mikula
2001 Award Winner!!!!
National Science Teachers Association
Projects, activities, and a field guide to 40 favorite North American species!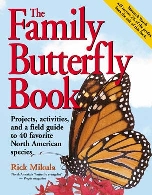 Everyone enjoys seeing butterflies flitting about on a warm summer day, but few people realize that many species are endangered. Without help, nine out of ten caterpillars won't survive long enough to become butterflies. The "grandfather of butterfly farming," Rick Mikula, wants to improve these odds. In The Family Butterfly Book, Rick shares his vast knowledge, contagious enthusiasm, and deep respect for these fascinating creatures.
Though many of us know that caterpillars turn into butterflies, Rick explains the transformation from start to finish - egg to caterpillar to chrysallis to butterfly - and reveals where each stage can be found in the wilds of our own backyards. With stunning color photographs and detailed illustrations, Rick explains how to attract, safely catch and handle, and raise and support butterflies. He also discusses how to make irresistible habitats for butterflies and emphasizes the importance of basking sites, water sources, and shelter. Did you ever want to hand-feed a butterfly? Have a live-butterfly tree? Feature butterflies in special celebrations? Rick explains all that and more.
With vital facts, how-to projects, and intriguing discussions of butterfly behavior and lore, The Family Butterfly Book is sure to amaze and inspire readers of all ages.
Contents
Foreword by Dr. Orley R. Taylor
Preface and Acknowledgments
Chapter 1: Getting to Know Butterflies
In love with Butterflies · Caterpillar and Butterfly Anatomy · Water on the Wings and Other Common Myths Debunked · Long-Distance Travelers · Skippers · Butterflies in Danger · Creating a Butterfly Habitat
Chapter 2: Inviting Butterflies into Your Garden
Facets of Your Garden · Favorite Nectar and Host Plants · Beyond Flowers · The Best Regional Backyard Butterfly Plants · Landscaping for Butterflies · Container Gardening · A Shady Situation · Water · Building a Waterless Pond · Basking Sites · Butterfly Condos and Other Lep Lures · Make Your Own Butterfly Box · Make Your Own Butterfly Net
Chapter 3: Taking a Butterfly under Your Wing
Bringing Up Butterfly Eggs · Raising Caterpillars · Make a Caterpillar-Rearing Container · Build a Hanging Butterfly Cage · Learn to Hand-Feed Butterflies · The Mating Game · The Magical Emergence of a Monarch · Butterfly Life Stages · To Free or Not to Free
Chapter 4: Starting Your Own Butterfly Farm
Raising a Quantity of Caterpillars · Containers and Cages · Making Caterpillar Cages · Tending the Chrysalis · Quirks and Peculiarities · Butterfly Atria · Marketing Butterflies · Releasing Your Butterflies · First Aid for Butterflies
Chapter 5: The Most Common Backyard Butterflies
Learning to See · What's in a Name? · Swallowtails and Parnassians · Brush-footed Butterflies · Gossamer Wings · Sulphurs · Whites · True Skippers · Neotropicals · Oddities
Chapter 6: Taking the Plunge!
Share the Joy · Collecting Farther Afield · Look before You Lep · A Butterfly Winter · Photography Tips and Tricks
Appendixes
Hardiness Zones for Common Host Plants · Make a Butterfly Envelope · Development Time for Selected Butterfly Species · USDA Permit to Transport Butterflies across State Lines · Butterfly Web Sites
Index
Metric Conversion Chart