Butterfly Festivals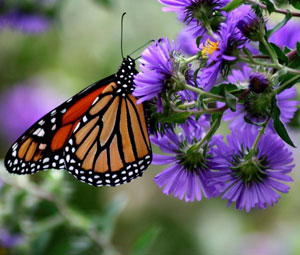 United States
California
Mariposa Butterfly Festival - Every year on the first weekend of May, vendors, musicians and celebrants from all over the world gather in the small rural community of Mariposa, California, for a family event that seeks to educate and celebrate the Butterfly along with our beautiful Mariposa County in the Gold Country foothills of the Sierra Nevada mountains.
Monterey Butterfly Parade - Pacific Grove's annual Butterfly Parade, a tradition that goes back almost three-quarters of a century, is held on the first Saturday of every October. The Butterfly Parade, as well as the Butterfly Bazaar that follows, celebrates the return of the Monarch butterfly to Pacific Grove, the beautiful insects' annual wintering stop.
The Water Conservation Garden - The Butterfly Festival celebrates the return of butterfly season each spring at The Water Conservation Garden! An exciting program of activities engage all ages with these amazing insects, highlighting the important role that butterflies play in our ecosystem, and how visitors can attract and support butterflies in their home gardens.
Florida
Coconut Creek - Coconut Creek, the "Butterfly Capital of the World", is a well-planned city with a unique environmental consciousness nestled between Miami and Palm Beach. Each year, they have a wonderful butterfly festival.
Florida Museum of Natural History Butterflyfest - ButterflyFest is an annual festival in October to celebrate backyard wildlife with an emphasis on pollinators! From native butterfly releases, live animals, workshops and plant sales to vendors, entertainment and food, all activities are fun-for-all-ages!
Monarch Butterfly Festival each October at the St. Mark National Wildlife Refuge is always a treat for both kids and adults, and there are numerous opportunities to participate in activities, learn more about the monarchs and the refuge through educational displays, and enjoy special wildlife exhibitions.
Georgia
Chattahoochee Nature Center - The Flying Colors Butterfly Festival delights everyone all weekend at the Chattahoochee Nature Center when Monarchs and Milkweed take center stage as we celebrate all things pollinators!
Dunwoody Nature Center Annual Butterfly Festival in August includes live butterfly exhibits, games, crafts, animal encounters and discovery stations throughout the park.
Illinois
Oak Lawn Park District Monarch Butterfly Festival - This award winning festival highlights the issues that the magnificent Monarch butterfly faces today, and how everyone can do something to assist in the preservation of this challenged species. Join us for fun and educational activities and presentations for children and adults, which will include butterfly arts and crafts for children, exhibitors sharing expertise in many related areas, an interactive butterfly puppet theater, Monarch butterfly tagging and release, a bug zoo, photography tips, music, caterpillar aquarium and butterfly raising information.
Monarch Migration Festival - In early September, join the City of Galesburg Parks and Recreation Department for a day of fun activities, great food and vendors, and wonderful educational opportunities. Migrate to the Lakeside Nature Center for a day of activities, education and fun events. There will be plenty to do and to learn concerning Monarch butterflies.
Kansas
Kansas Wetlands Education Center's Annual Butterfly Festival - From making milkweed seed bombs to tagging monarch butterflies, kids and adults will find plenty to do during this free event each September. Favorite activities for the Festival include monarch tagging, an insect zoo, milkweed seed bombs, butterfly photo boards, crafts, and door prizes.
Kentucky
Oak Grove Tourism Butterfly Festival - The only festival of its kind in the State of Kentucky, the Oak Grove Tourism Butterfly Festival is one of the most popular events in the region. Includes a release of over 1,000 butterflies!
Massachusetts
Barbara J. Walker Butterfly Festival - Celebrate butterflies with a day of educational fun for all ages at Broad Meadow Brook, where butterflies fly free in their natural habitats! Held each August. Event includes live music, children's activities, butterfly garden tours, delicious food and much more.
Minnesota
Monarch Festival - This September Festival celebrates the monarch butterfly amazing 2,300 mile migration from Minnesota to Mexico with music, food, dance, hands-on art, native plant sales and plenty of opportunities to get up close with monarch butterflies, learn about their habitats, and what you can do to make a difference.
Missouri
Powell Gardens Butterfly Festival - Immerse yourself in the world of butterflies native and exotic! Special programming, family-friendly activities, free expert advice each weekend (Friday-Sunday) of the festival.
New Hampshire
Petals in the Pines - The NH Monarch Festival, held annually at Petals in the Pines in Canterbury since 2013, focuses on increasing public awareness of the Monarch's plight, and ways to help them.
New Jersey
Stony Brook-Millstone Watershed Association - Their annual Butterfly Festival, held on the grounds of the 930-acre Watershed Reserve, has been a popular family event attracting around 3,000 visitors every summer.
New York
Stony Kill Farm Butterfly Festival - The Butterfly Festival draws crowds of over 2000+ visitors each year. Guests enjoy visiting the Monarch Education Table and the Butterfly Tent which is stocked with Monarch and Swallowtail butterflies at all different stages. Master gardeners are in attendance to educate and answer questions about Stony Kill Foundation's Verplanck Memorial Garden. Entertainment includes face painters, a henna artist, hula hoop demonstrations and other terrific vendors. July
Sweetbriar Nature Center Butterfly & Bird Festival - Come to Sweetbriar's annual Wildlife and Craft Fair for a day of fun and education. It is also the grand opening of our enclosed Butterfly Garden. Along with this exciting event musical entertainment, crafts, games, face painting, animal shows, and craft vendors. Food and refreshments available for purchase.
Oklahoma
Oklahoma City Zoo Monarch Festival - Celebrate the beauty and wonder of monarchs with the Zoo. Together, we can save monarchs from their plight in the wild. Fun activities, information stations, garden tours, art vendors and more! This event is free with Zoo admission. Occurs each September.
Monarchs on the Mountain Festival - annual September festival celebrating the vital role Eastern Oklahoma plays in the Monarch butterfly migration. The day is filled with fun and educational activities highlighting the life cycle of the Monarch Butterfly, the Great Monarch Migration and the habitat of Turkey Mountain which supports a myriad of wildlife. Information will be available and plants may be purchased to help establish your own Monarch Waystation. Visitors can even make a seed ball to plant this fall. Monarch tagging will be demonstrated and butterflies will be released to join the southward migration to the Oyamel fir forests of Central Mexico. This free festival will appeal to all ages and food trucks will be on site. Come spend the day with us celebrating our unique place in the life of the Monarch!
Pennsylvania
Colonial Gardens Butterfly Festival - Join Colonial Gardens for this annual celebration of pollinators with two releases of Monarch butterflies in our Gardens at Colonial facility. Enjoy food, local vendors and crafters, sales and a warm family atmosphere, as well as guest speakers and seminars. It's our biggest event of the year! August
Texas
Grapevine Botanical Garden Butterfly Flutterby - Bring the entire family, even your pets, to celebrate the migration of the monarch butterfly from Canada to Mexico by way of Grapevine. The Annual Butterfly Flutterby is a free, family-friendly event featuring live butterfly releases, a parade, crafts, games and much more, held in October.
Jasper County - Butterfly Festival is always the first Saturday in October, held in conjunction with the Chamber of Commerce's Fall Fest: arts & craft, music & special events on the courthouse square.
Mission Texas - Texas Butterfly Festival - Whether you are an accomplished naturalist or a beginner enthusiast, the Texas Butterfly Festival is the place to be at the end of October. Here, many eyes make for exciting discoveries, including U.S. records, super rarities, subtropcal strays, seldom-seen species, 'life' and chase butterflies that may only be found in the Lower Rio Grande Valley (LRGV), where the river winds its way toward the Laguna Madre at the Gulf of Mexico. This unique region encompasses no fewer than 11 different types of habitat, from tidal wetlands to riparian forest, brushland scrub to prairie savanna, and is home to more than 1,200 different species of plants, 500 species of birds, 200 vertebrate species, roughly 300 species of butterflies, and over 90 species of dragonflies!
Wimberley - The EmilyAnn Theatre & Gardens - The festival features butterfly releases, butterfly art, nature activities, and more.
Virginia
Norfolk Botanical Garden - This annual festival takes place in July. Enjoy educational booths and demonstrations, as well as lots of activities for butterfly enthusiasts of all ages. Guest are encouraged to dress up in their best butterfly costume.
Williamsburg Botanical Garden features a butterfly festival each August. Festivities include hands-on exhibits, speakers, butterfly crafts and two tents filled with over 300 beautiful live butterflies.
Wisconsin
Fox Cities Butterfly Festival is an annual family fun event held each June in Appleton. The event opens at 9:00 am with registration and light breakfast foods. Activities include face painting and crafts, kids' games and entertainment, and butterfly demonstrations. In the spirit of 'Helping Families Fly', the event closes with a group release of over 1,000 butterflies.