As an Amazon Associate and participant in other affiliate programs, The Butterfly Website may earn from qualifying purchases from this page.
Our Top Pic for Kids' Essential Backyard Learning Tools
The Pop-Up Insect Mesh Cage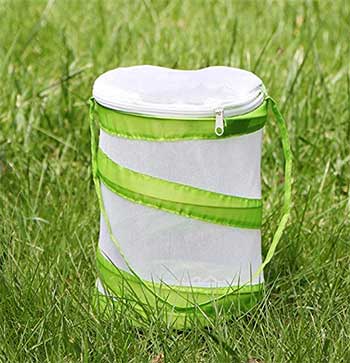 Ah, backyard bug searching - those fond memories of finding interesting critters in our backyard as youngsters. We'd scoop them up and run around trying to find something to put them in (well, those of us who didn't find the critters gross, anyway). The pop-up mesh insect cage is THE BEST way to temporarily house that newly discovered critter to allow a close-up, protected view.
These mini cages collapse down flat for easy storage - when open, they measure 5.5" x 7" tall. They have a convenient carrying handle for little hands. Their breathable mesh fabric allows for good airflow to keep the critters safe. The large zipper top opening makes it simple to deposit or remove critters and allows for easy cleaning.
These cages work great for butterflies, grasshoppers, crickets, fireflies, praying mantis, ladybugs, spiders and more. The mesh is tight enough for containing newly hatched caterpillars and praying mantises. They are great to have around for when you find a butterfly chrysalis in your backyard and you want to let it emerge in a safe enclosure.
We highly recommend the mini pop-up mesh cage!