Get a Close-up Look at the Butterfly Life Cycle
The Butterfly Website may earn from qualifying purchases from this page.
Witness the fascinating life journey of painted lady butterflies! This is the perfect gift for butterfly and nature lovers of all ages. Teaching children about life cycles is the perfect way to help them connect with nature and understand the world around them. Growing butterflies helps them learn about one of the most famous examples of complete metamorphosis. Hungry caterpillars will undergo a rapid transformation and finally emerge as captivating butterflies with completely different features. With these kits, kids can observe all the changes take place in front of them and get a hands-on experience.
Butterflies live a short life. Significant changes happen in them quickly as they transform from caterpillars to butterflies. Your caterpillars will take about 3 weeks to grow into butterflies. You can keep the fully-grown butterflies in the habitat for a few days. While they are with you, you can feed them slices of freshly cut fruit or sugar water. You can continue to observe their unique behavior - they taste with their feet and drink with their tube-like mouth! After you've enjoyed their companionship, you can release them outside when the temperature is above 50°F at night.
Live Butterfly Kit Options from Nature Gift Store
Nature Gift Store is a small, friendly company based in Washington. Having discovered a fondness for insects while pursuing her degree in Biology, founder Randi Jones was quite bugged to know that people usually dismissed these little creatures as "creepy-crawlies". She reasoned that this indifference was due to lack of exposure and information. An artist at heart, Randi began creating butterfly display artwork in her studio to share her love for these wonderful creatures with everyone. In 2001, Nature Gift Store was born out of this love.
Nature Gift Store offers 3 versions of the Butterfly Growing Kit, all of which can be shipped with the actual live caterpillars, or with a voucher to send in when you're ready for the live caterpillars (great when giving as a gift).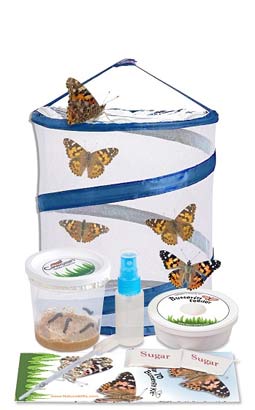 Butterfly Growing Kit
Comes with reusable butterfly habitat and 5 or 10 caterpillars.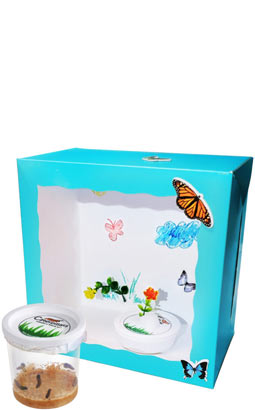 Crafty Butterfly Kit
Assemble & decorate your butterfly box! Comes with 5 caterpillars.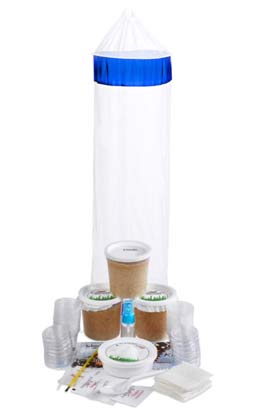 Classroom Butterfly Kit
Comes with reusable habitat and 32 caterpillars.
TIMING
Once you receive your caterpillars, it takes 7-10 days for them to go into their chrysalids, and then another 7-10 days for them to emerge as adults. You should give them a couple of days to let their wings dry before you release them. This should help you figure out when you want to receive your caterpillars. If you're giving this to someone as a gift, buy the kit with the voucher and they can decide when they want to receive the caterpillers. It's important to note that these caterpillars can only be shipped if temperatures are no higher than 85°F or lower than 40°F in your area or they can die during shipping. Make sure to keep this in mind when ordering.
WARNING: BUTTERFLIES WILL MATE!
If you don't want a ton of tiny caterpillars to take care of after your butterflies emerge, make sure you release the butterflies within a week of hatching. After that, the adults will start mating and laying eggs in the cage. If this happens, you can place the eggs outdoors on plant life (preferably one that Painted Ladies eat (click here for butterfly plant list). If you keep them even longer, you will end up with a lot of baby caterpillars. If you decide you want to raise these caterpillars, you will need to provide food. Painted Lady caterpillars love to eat thistle, hollyhock, fiddleneck, and malva. Be sure the leaves are pesticide-free and place them near your caterpillars in your habitat. Alternately, you can purchase Painted Lady Caterpillar Food from Nature Gift Store.
To learn more about these butterfly growing kits, read our Live Butterfly Kit Buying Guide.
Happy Rearing!