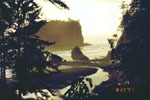 To plan a trip one must pick a destination, decide what cities and attractions you will visit and mix in some butterflies. This began our decision to visit the western side of the state of Washington and the National Parks in that area during the last two weeks of August. We have found this time period to be less crowded and the weather is still very enjoyable. From there we just kept adding on and this resulted in a very memorable trip.
After experiencing the many places of interest in Seattle, we set a course north to Bellingham and spent a whole day on a whale cruise through the San Juan Islands. We were rewarded with the sightings of orca and minke whales, porpoises, harbor seals, bald eagles and various sea birds.
Then we headed into Canada to catch the ferry to visit Victoria, British Columbia. Among the attractions we visited, there was the world famous Butchart Gardens. Unfortunately, the sun was not shining, but it was the best garden ever to grace our vision. We were in awe of all the hard labor required to create and maintain the beautiful gardens.
Nearby are the Victoria Butterfly Gardens. Rare and exotic butterflies enjoy a lush, tropical indoor rain forest. We observed at least four entire life cycles, which included the eggs, caterpillars and pupa states. There were caterpillars that had the appearance of bird droppings and the giant atlas moth's green spined caterpillar happened to be munching away in a tree. What we most enjoyed was the guided tour that pointed out each stage of the butterfly or moth's life cycle.
Our next stop was at Crystal Gardens. It is an unusual conservatory of many tropical plants containing exhibits of endangered exotic animals and a seasonal area provided for free-flying butterflies. Morphos and the palio species caterpillars were among those to enjoy the habitat. The garden's main focus is on the preservation and conservation of endangered species of tropical birds and animals.
We stopped at a few more sights in Victoria before we, luckily, caught the last ferry to Port Angeles that day. We were rewarded with a stunning sunset.
The next day was dedicated to Olympia National Park. This was too short of a time and we really crammed it in and had a very long day. First, we headed up to Hurricane Ridge at 5,200 feet. What a view of the snow capped mountains! A snowplow was parked nearby since this region may receive snow every day of the year, and in 1996, they had 405". Wow! There is a trail there that is three miles long and sorry to say we didn't have the time to wander along the entire trail. We hiked for about a half-hour and came upon a field of alpine flowers and the last thing we expected - butterflies. I didn't have my field book to identify them, but we saw a tiny blue, a yellow, a skipper, and a fritillary - even managed to get one picture without trampling on the flowers. Down the mountain we went and stopped at various places through the rest of Olympia and one of the few rain forests in the United States. Another pretty sight was Ruby beach with its sea stacks and catching it as the sun was setting.
The next days were spent stopping along the way visiting various attractions that included Mount Rainier, Mount Saint Helen's, Columbia River Basin, and Crater Lake National Park in Oregon. Mount Rainier also had alpine meadows, but the weather did not cooperate and shortly after we stopped at the lodge in Paradise, we had fog, lightening and rain and some trees had toppled and blocked some roads for a brief time. It just shows you that the weather can be very unpredictable at times. Mount Saint Helen's is an awesome sight with some of the new visitors' centers just opening. You can get within five miles of the collapsed crater at Johnson Ridge Observatory. Columbia River Basin is a beautiful drive meandering along the Washington and Oregon borders and along the road. It is sprinkled with waterfalls. Crater Lake is a former volcano and has the bluest water one can see and the deepest lake in the United States. Luckily, we had enough time to take the boat ride inside the caldron, which was very enjoyable, but beware. There is a very steep trail to get down to the boat. Now we can say we have been inside of a volcano.
So little time and so much to see providing us with many memories. Hm-m-m, we may see a return trip sometime in our future.