Here is a Way to Protect the Monarch Overwintering Sites in Mexico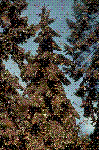 Many of us are becoming increasingly aware that the Monarch butterfly's continued existence is threatened by the loss of more and more of the overwintering habitat in Mexico. In the August 1996 edition of The National Geographic, Dr. Lincoln Brower of the University of Florida stated, "We are not going to have a monarch migration in 20 years if those reserves (the 62 square miles in five designated sanctuaries) aren't expanded and protected".

The continuing and increasing threat to the survival of the Monarchs results from the danger to the few sanctuaries that are left and to the buffer areas that act as an umbrella and a blanket to protect them. As a result of logging, some of it legal and some of it contraband, this umbrella and the blanket which protect the overwintering Monarchs are becoming tattered and worn.

The loss of the buffer areas have been recognized for years. There have been numerous studies. Various organizations and groups have tried different approaches. The Mexican Government and the State of Michoacan, sometimes with aid from other governments, have initiated programs to regulate legal logging and to try to control contraband logging. What has succeeded is largely cosmetic. The buffer areas continue to be worn away.

The rest of this web page is intended to tell you how your contribution of an amount as small as $5 can start working immediately to help slow down, and possibly stop, this relentless erosion of the Monarch butterfly sanctuary buffer areas.




Last Updated: Feb 24, 1997: Jack Mikula / Neil Weininger
© copyright 1995-1997 Matrix Graphics Corp.; all rights reserved.